Monday, September 20, 2021 at 7pm EDT on Zoom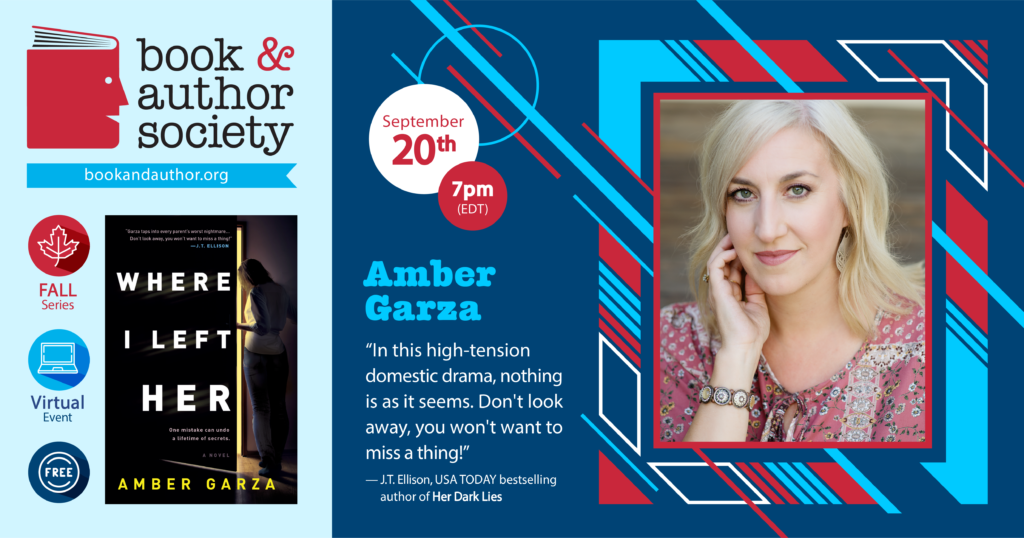 About Amber Garza
Amber Garza has had a passion for the written word since she was a child making books out of notebook paper and staples. Her hobbies include reading and singing. Coffee and wine are her drinks of choice (not necessarily in that order). She writes while blaring music, and talks about her characters like they're real people. She lives with her husband and two kids in Folsom, California, which is—no joke—home to another Amber Garza.
About "Where I Left Her"
Whitney had some misgivings when she dropped her increasingly moody teenage daughter, Amelia, off at Lauren's house. She'd never met the parents, and usually she'd go in, but Amelia clearly wasn't going to let something so humiliating happen, so instead Whitney waved to her daughter before pulling away from the little house with the roses in front.
But when she goes back the next day, an elderly couple answers the door—Amelia and Lauren aren't there, and this couple swears they never were, that she's at the wrong house. As Whitney searches for Amelia, she uncovers a trail of lies her daughter has told her—from the Finsta account to rumors of a secret relationship. Does she really even know this girl she's raised? And Amelia's not the only one with secrets. Could Whitney's own demons have something to do with her daughter's disappearance, and can Whitney find her before it's too late?
"In this high-tension domestic drama, nothing is as it seems. Don't look away, you won't want to miss a thing!" —J.T. Ellison, USA TODAY bestselling author of Her Dark Lies.